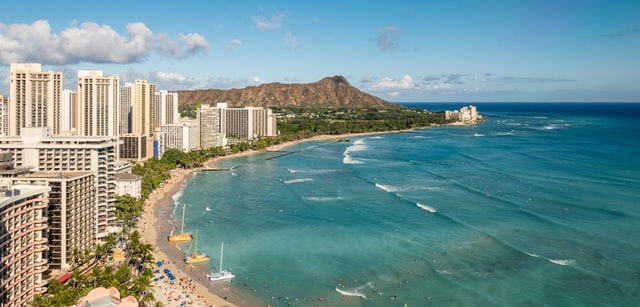 A family trip to the beach is an elegant way to spend a vacation.
When traveling with children, though, you'll need more than just sand and waves to make your time at the beach enjoyable for everyone.
That's why, we have selected 5 best beaches for US Family Beach Destinations for families.
Each beach has convenient access to restrooms and restrooms, lifeguards on duty, and nearby tourist attraction points, restaurants, and hotels that are suitable for both children and adults.
OVERVIEW:
Silver Beach in St. Joseph MI
Siesta Beach in Sarasota, Florida
Main Beach in Santa Cruz, California
Waikiki Beach in Honolulu, Hawaii
Crandon Park Beach in Key Biscayne, Florida
1. SILVER BEACH – ST. JOSEPH, MI
During the summer, this broad Lake Michigan beach at Silver Beach County Park has 1,600 feet of beachfront designated for public swimming.
The tranquil seas and good accessibility to the facilities, showers, and concession stand will appeal to families with little children, and lifeguards patrol the beach during the summer months.
WHY VISIT
By the shore, there's a decent-sized playground with slides and swings, and downtown St. Joseph has the wet-and-wild Whirlpool Compass Fountain (Michigan's largest splash pad).
It also has the Silver Beach Carousel, where kids may ride a tiger, giraffe, or a horse.
THINGS TO DO
There are plenty of things to do including the interactive Curious Kids' Museum and Discovery Zone.
There is also Nye's Apple Barn, where tourists can harvest fruits such as raspberries, blackberries, cherries, and peaches at various times throughout the summer.
Both are located in St. Joseph, which has been dubbed the "Riviera of the Midwest."
---
2. SIESTA BEACH – SARASOTA, FL
This expanse of powder-soft sand, which has been awarded the best beach for US family beach destinations in America by TripAdvisor and Dr. Beach, is suitable for the entire family.
When the kids need a reprieve from the ocean, they can construct sandcastles and play in the not-too-rough surf, then head to the playground or beach volleyball nets.
WHY VISIT
Over the last few years, a significant remodeling at the primary beach entry has resulted in improved facilities and concession stands, including more parking than before.
You can rent beach chairs and umbrellas here.
THINGS TO DO
It's on Sarasota's Siesta Key, where families will explore a variety of seafood restaurants and ice cream parlors.
Easy access to Sarasota's many kid-friendly museums, parks, and sights, like the Mote Aquarium and Sarasota Jungle Gardens.
---
3. MAIN BEACH – SANTA CRUZ, CA
For quick access to the Santa Cruz Beach Boardwalk, head to this beach, which is located between the beginning of the San Lorenzo River and the Santa Cruz Wharf.
The 96-year-old Giant Dipper wooden roller coaster, along with modern expansions like the Twirling' Teacups, and other activities like mini-golf, laser tag, and arcade games, make this longtime favorite one of the top coastal boardwalks in the United States.
WHY VISIT
A bowling alley on the oceanfront has inaugurated the "World's Smallest Bowling Museum" display.
When you become hungry, the boardwalk and the wharf include a variety of kid-friendly restaurants.
THINGS TO DO
The Seymour Marine Discovery Center, which offers family tours and Sunday Seaside Crafts to help youngsters learn about life under the sea.
The Santa Cruz Surfing Museum spans more than 100 years of surfing history, are both nearby sites.
---
4. WAIKIKI BEACH – HONOLULU, HI
Regardless of expertise, the whole family can enjoy the surf here.
In this Honolulu location where legend Duke Kahanamoku won three Olympic gold medals for the US.
It has a small but long-lasting wave break that is enjoyable for both beginners and advanced surfers.
WHY VISIT
Waikiki Beach is part of a two-mile stretch of interconnected beaches on Oahu that offers world-famous vistas of Diamond Head and is also a wonderful site for canoeing, or boogie boarding.
The wide, sandy beach is great for swimming, sunbathing, and jogging.
The gentle waves and lack of strong currents make Waikiki Beach a perfect place for novice surfers and bodyboarders.
THINGS TO DO
Come to learn more about the area's surfing history on the Waikiki Historic Trail, then explore the Waikiki Aquarium to see Hawaiian monk seals and enormous clams.
It is also one of the most popular places in the world for stand-up paddleboarding (SUP).
For more experienced surfers, the reef break just offshore provides a more challenging wave.
The beach is also close to restaurants, shops, and nightlife, making it a convenient place to stay.
---
5. CRANDON PARK BEACH – KEY BISCAYNE, FL
Because of an offshore sandbar that protects the waves from smashing, the water at this two-mile beach within Crandon Park on Miami's Key Biscayne is usually quiet.
Beach wheelchairs, as well as picnic spaces with tables and grills, food stands, and canopy and water sports rentals, are all provided.
WHY VISIT
There are plenty of things to do in Crandon Park Beach Key Biscayne Florida.
The park has several different areas, each with its unique attractions.
Visitors can enjoy the beach, kayaking and canoeing on the bay, fishing, biking and hiking trails, nature preserves, and more.
There is also a golf course on-site.
No matter what your interests are, you'll be able to find something to do at Crandon Park Beach.
THINGS TO DO
A nature center, tennis facilities, a golf course, and the Crandon Park Amusement Center, which includes a historic carousel and an outdoor roller rink, are all located in the park.
When you're prepared to leave the beach and tour Miami, visit Zoo Miami, which has been designated as a Certified Autism Center, and the Miami Children's Museum.
The New World Symphony in Miami also has a Sensory-Friendly environment where families with special needs children can relish a concert with unique lighting and sound adjustments.
CONCLUSION
Be sure to check out the rest of the family beach destinations as well as learning the 21 Best Beaches in California for Families (2022).
Happy Beach Travels!