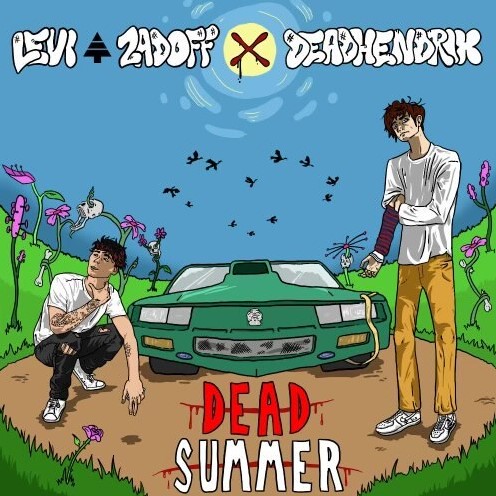 Music, at its best, is a delicate balance of understanding the past and looking to the future, of using elements of what has gone before to create the sound of tomorrow. It is the fine art of marrying up the fresh with the familiar. It is all about evolution rather than revolution (despite what the aging punks would have you believe.)
When songwriters, rappers, lyricists, and musicians Dead Hendrix and Levi Zadoff teamed up to create their latest EP, Dead Summer, they used these attractive opposites to develop their sound.
It is a sound that you will recognize, pop-punk in all its glory, the same upbeat and anthemic qualities, the sing-along vocals, the exploration of the conditions and concerns of youth; it is raw, in your face, infectious and energetic, full of wit and wisdom, the profound and the profane.
But if the sound and style are familiar, the sonic building blocks they used to construct the music might differ. Dig below the melody and realize this is the digital world at work, that this is the product of samples and synths more than traditional analog instruments.
It's the sound of music moving forward, genres of the past embracing the technologies of the now to create future music.
I Don't Think It Could Get Much Better, which kicks the EP off, is either a cool, life-affirming anthem or a lightly veiled musing on how life can kick you to the floor if you take your eye off the ball.
Alone is an exploration through thoughts of loneliness, Can't Be God tells us in no uncertain terms that we are never really in the driving seat when it comes to what life gives us, and Love Games and Teenage Dirtbag deal with more carnal desires and darker, more illicit thoughts.
Dead Summer would be the product of the perfect collaboration between two artists and proof, if needed, that the best music is always more than the sum of its parts—much more.
Listen on Spotify:
https://open.spotify.com/album/7v9FFhJrHoLLDiuNOIXy1H?si=vCrWap8nS8S6zM4iOJHFpg
Levi Zadoff Instagram:
https://www.instagram.com/levizadoff
Levi Zadoff Website:
https://www.levizadoffmusic.com/
Dead Hendrix Instagram:
http://www.instagram.com/talk2thedead
Dead Hendrix Twitter:
https://www.twitter.com/talk2thedeadd